Tomotoshi Hoshino has released a great number of works as a Japanese painter pursuing the art of 'yamato-e,' and recently in particular, he's drawn attention by very actively expanding his work's presence outside of Japan, such as by exhibiting at World Art Dubai in April 2017, followed by his personal exhibition in Paris in 2018 and exhibiting at the Abu Dhabi Hunting & Equestrian Exhibition in 2019.
Going to various countries and putting your works in art fairs and holding personal exhibitions—and thereby increasing the number of places where your art can be encountered by art lovers—is certainly an effective way to to earn yourself new fans as an artist, but Hoshino doesn't stop there; he's also had quite some success selling his paintings at many of his past events.
What exactly is it about Tomotoshi Hoshino's paintings that makes them captivate so many people and earn so much praise? We took this opportunity to speak with some of the people who have purchased his artwork to hear from them about what gives it its allure.
■Andrew Tait (purchased Hoshino's work "Dawn" at World Art Dubai in 2017)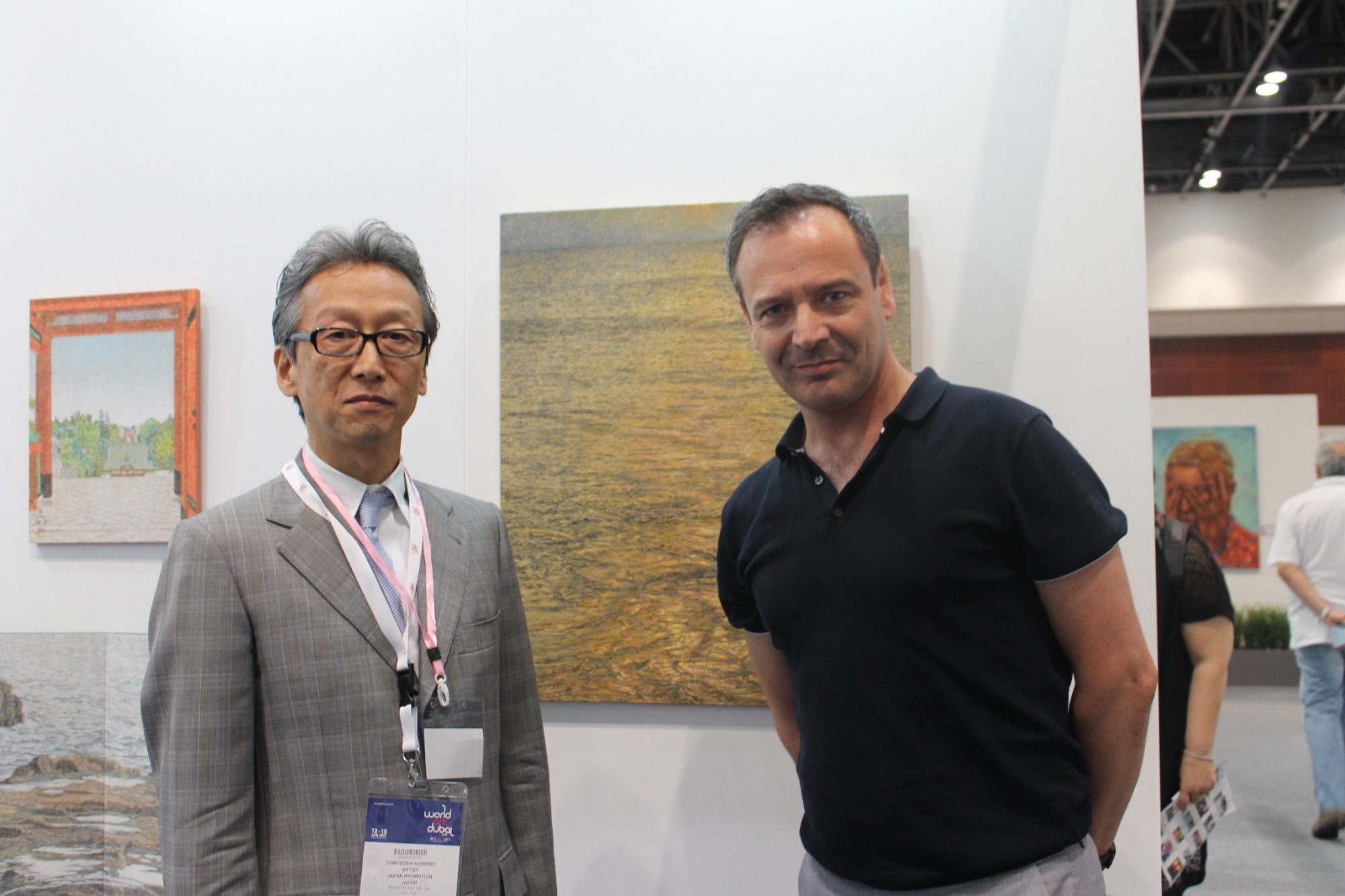 Hoshino and Andrew (right), at the World Art Dubai event.
"Walking around the Dubai Art Fair I was stopped in my tracks when I saw the exquisite painting by Hoshino-san. The painting really spoke to me.
The technical excellence of the painting itself was incredible and I had never seen gold leaf applied in a modern Japanese painting. But it was also the subject.
Evening on the sea is my favorite time and place. The picture captures this so well. But also the sense and the feeling through the application of gold leaf and the amazing, almost abstract, treatment of the waves. The picture shimmers and resonates.
And finally there is the rock in the picture. I used the inheritance from my recently deceased grandmother to buy the painting. When I look at the rock it reminds me of my grandmother and the importance to be resilient and withstand whatever the world may sometimes try to overcome you with. Stand firm and let the currents wash around you. It is my most special painting."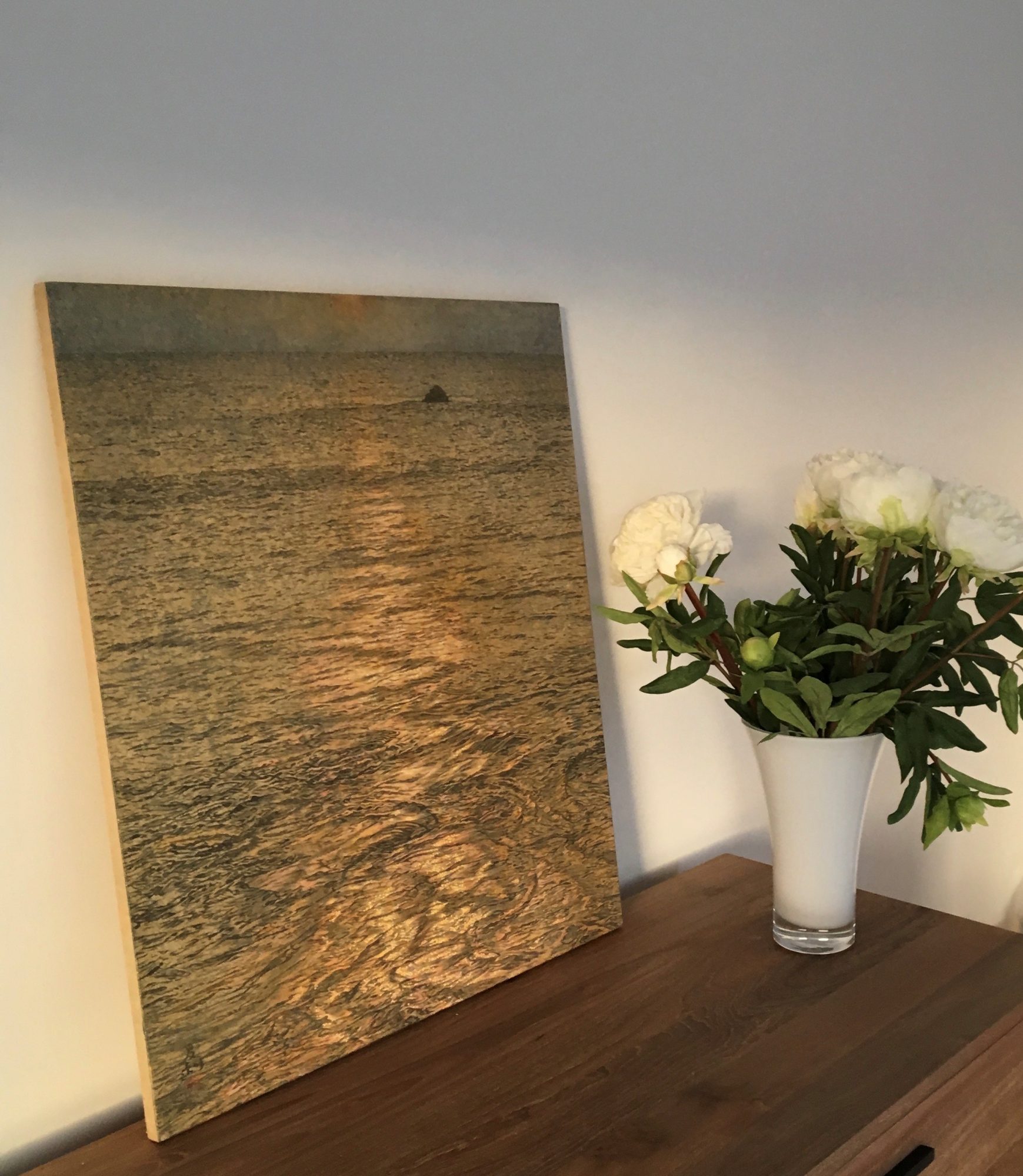 Andrew says that he's displaying the painting on top of the dresser in his bedroom, and it's the first thing he sees each morning when he awakens.
■Geneviève Roy (purchased Hoshino's work "The Opening Curtain" at Galerie Etienne de Causans in Paris in 2018)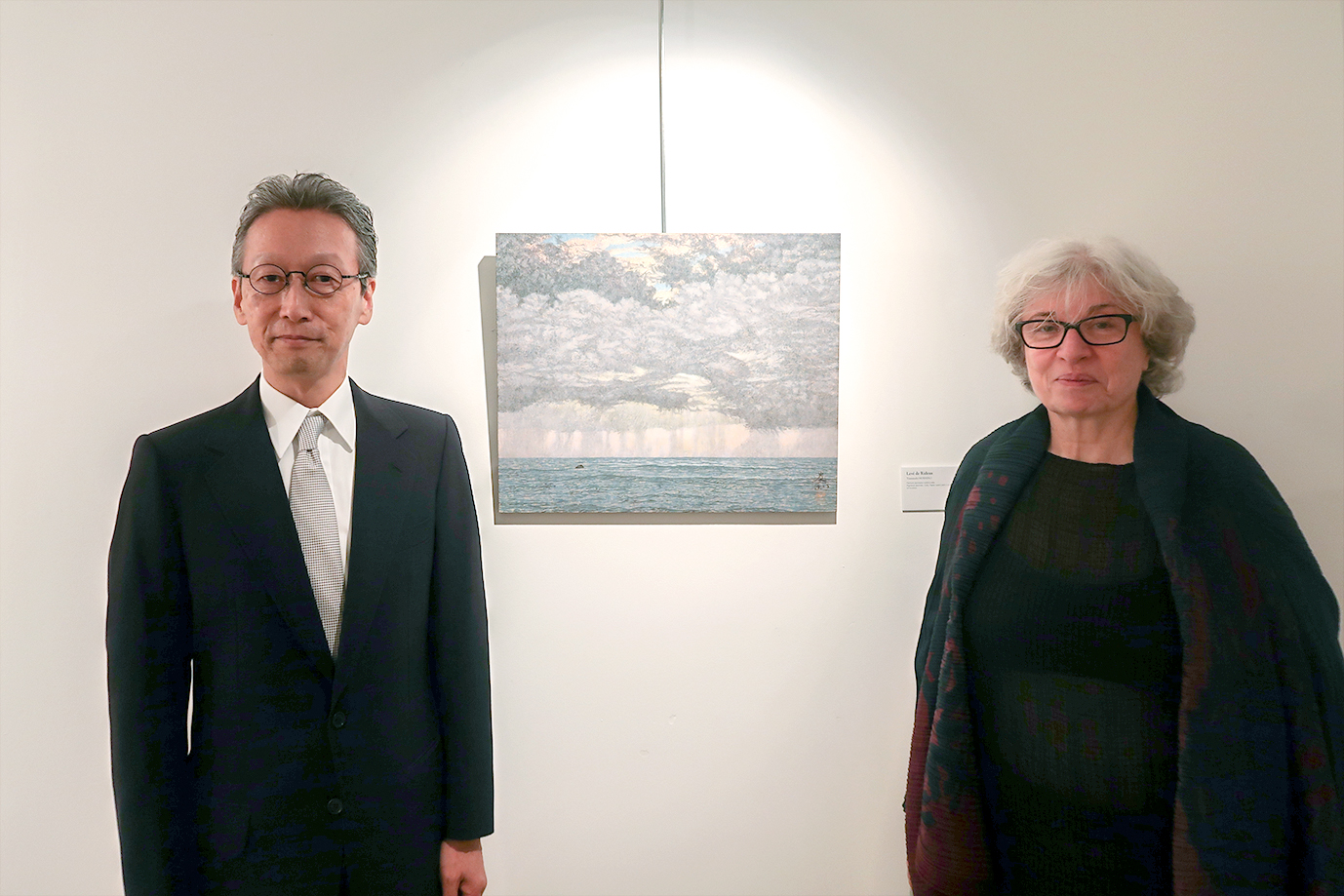 Hoshino and Geneviève (right), at Galerie Etienne de Causans.
"The year 2018 marked the 160th anniversary of the beginning of diplomatic relations between France and Japan, and many related art events were held throughout France. Among those, when I received an invitation to Tomotoshi Hoshino's exhibition, I felt especially intrigued and made my way to the gallery.
When I arrived at the gallery, I found I was the first person there. From the moment I stepped inside, I felt quietly and warmly welcomed by the subdued coloring of Mr. Hoshino's works and the exquisite nuance of the layers with which he paints.
Of the numerous works in the exhibit, there was one that really caught my eye with its depiction of a stormy sky and the sea. It's not just that I felt the impact of that scene, with its ferociously turbulent clouds and curtain of rainfall—I also had a feeling there was something mysterious there, invisible to the eye. I'd become completely engrossed in the world of Mr. Hoshino's art.
Mr. Hoshino as well as the woman interpreting for him did a wonderful job of sharing not only what his thoughts were during the creation of each painting, but also what they make him feel.
And within this painting I can see the presence of fragile nature. As a long time has passed since I first laid eyes on it, I can now recognize more detail and appreciate more of its true meaning than I could in the beginning.
At any time I can look at the blue hues he has painted in this piece—at the nature that quickly changes forms—and feel myself drowning in that light. It's a beautiful expression of light that's filled with energy, and it makes me feel the tranquility and deep affection of his spirit.
Thanks to this painting I can slip into a cozy daydream for a brief moment, and stroll through a lovely and poetic Japanese world. Mr. Hoshino, thank you for the extraordinary gift."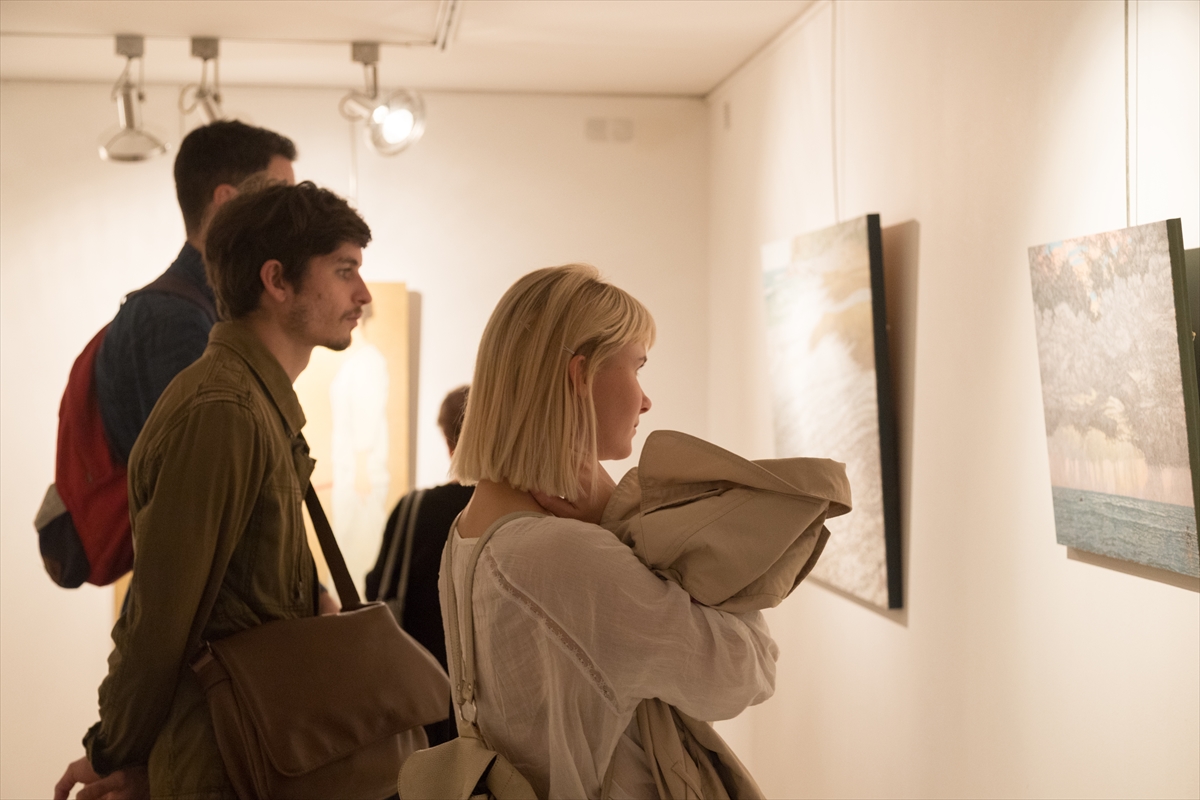 "The Opening Curtain" and other impressive works by Hoshino were on display at his personal exhibition in Paris, where countless art fans over many days visited and were left breathless by the pure and beautiful world of his yamato-e.
Tomotoshi Hoshino takes on themes with sincere dedication, is particular about the materials he uses, and strives to paint with a sensitive expressiveness that makes one feel a breath of vitality in his works. His yamato-e paintings transcend nations and cultures and they continue to fascinate the people who see them. Hoshino reveals that he's currently hard-at-work producing major paintings for his next exhibition—we can't wait to see what he has in store for us in the future!
Coverage/Photo: General Incorporated Association Japan Promotion
Article/Production: Juri Mita (Creative Division)